Services
Whether you need music copying and engraving services for a fully orchestrated symphony or opera score, band scores, chamber ensemble music, choral works, pian0-vocal piece, individual instrumental parts extracts, lead sheets, or simple classroom exercise sheets, MagArt Productions has the music notation experience, knowledge, and software savvy to produce professional sheet music that is clean, readable, performer friendly, and meets the highest levels of music engraving industry standards.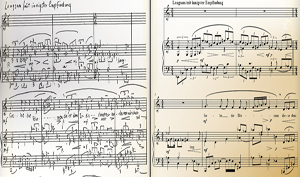 Standards- Music Notation Software
MagArt Productions is centered around the utilization and the extensive capabilities of Finale notation software. Scott Maggart, the founder of MagArt Productions, has multiple years of experience working with this software and has mastered the intricacies of its tools and possesses a comprehensive understanding of its capabilities, providing the ability to notate the most complicated of musical situations.
Sibelius notation software- Equally as powerful as Finale. We have recently incorporated Sibelius into our offering for our clients that prefer to have their music engraved in this file format. Though Finale maintains to be our default music notation program, we are very excited about the capabilities of the recent release of Sibelius.

Standards- Music Engraving (Notation)
MagArt Productions maintains a constant study through literature, research, seminars, and discussions of the most current music notation and engraving standards as set forth by the international music notation community. We put these standards into practice as a baseline for each project to assure that each individual note to the total page layout to the total score layout is well conceived, readable, and precise. we work each project through an ongoing series of proof reads, edits and modifications - always looking at it through the user's eyes. As a note, Finale and Sibelius have developed over the years very solid default presentation capabilities, doing an excellent job in initial set up and formatting of the music. But as professional music engravers we do not rely on the software alone to create our finished product. As some music engravers will claim, the creation of quality notated music is an art form where clarity, spacing, style, readability, and other subtleties are key to its success in the published and performance world.
Client Standards- As we realize and respect, many composers, producers, and publishers have a set of music engraving and formatting standards that they will want to incorporate into their projects. MagArt Productions is centered around client satisfaction and will work hand in hand with our clients on these specifications to assure that the final product meets their 100% expectations.
Service details
Music Engraving (Notation) & Copying
We specialize in turning your hand written manuscripts into professionally notated, typeset music. more
Virtual Audio Production
Through the use of Digital Audio Workstation (DAW) software, sequencing, and high-end instrument sampling, we can create a very realistic virtual performance of your composition. more
Music Transcription from Audio
If your composition is in an audio format only, we will transcribe this into a typeset musical notation form. more
Sheet Music Printing & Binding
If desired, MagArt Productions can manage the printing of your final engraved music. more